What we do
Cutting-edge digital products users love
The process
Our design and development process

User Experience (UX) Design
What should you digitalize and how should you do it?
We help you organize your ideas, define your goals, and develop software, web apps, mobile apps, and websites that are intuitive and efficient.
Our UX design team ensures that our solutions create a robust and logical experience that covers business and user requirements.
Key services include:
Problem definition
Ideation and validation
User research and analysis
Information architecture
Content strategy
Wireframing
Prototyping
Usability testing

User Interface (UI) Design
We love taking on the challenge of balancing impeccable design with streamlined functionality
We think as much about how it looks as we do about how it should work and how it will be used.
Our UI design team focuses on creating consistent visual appeal and elegance to enhance brand recognition and user engagement.
Key services include:
Visual design
Responsive design
Motion design
Design systems and style guides
Layout design
Prototyping
Design research

Custom Software Development
Unleash the power of science & technology. Add a lot of creativity. And do something that hasn't been done before.
We build software for industrial, data analytics, and financial applications that can be integrated into your website or mobile app or as a stand-alone program.
Our team of data scientists, machine learning and AI experts, and network of academic resources won't stop until we develop the best product or solution for your next generation venture.
There's nothing we like more than a challenge.
Key services include:
Big Data processing
Database architecture
Applied machine learning and AI
Computer vision
Natural language processing
Automation and chatbots
API development
Data visualizations and analytics
Web3 and blockchain

Mobile App Development
Mobile applications can drive or enhance a product or service. Either way success hinges on the quality of the mobile app.
Reliability, speed, security, and ease of use are vital to obtaining and retaining users.
Our mobile app design & development team integrates the latest technology to give your users a seamless experience.
Build the next industrial or social disruptor. That's what we're here for.
Key services include:
Native iOS and Andriod apps
Hybrid apps
Delivery and logistics
Social networks
E-commerce and payments
Navigation services
Real-time news & data feeds
Sports & entertainment services
Crypto wallets and exchanges

Web Development
Our webdesign services allow you to express your brand, gain engagement, and sell your product without being bound to the restrictions of pre-made templates.
We build custom websites that give you the power to get exactly what you want out of design and functionality.
Stand apart from the crowd with a design you can call your own. And with customized content management and front-end editing you'll be able to manage your site whenever and from wherever you need to.
Key services include:
Custom website design
Content management systems
3rd party services integrations
E-commerce
Showcase pages
Corporate websites
News and media sites

Dedicated Agile Teams
We run all projects according to Agile methodology.
Each project has a dedicated team to ensure collaboration, efficiency, and successful development.
We provide additional project resources to our clients if needed or integrate into their teams if desired.
Key services include:
Project management
Sprint planning
Testing
Reporting
Have a project?
Let's create something amazing together.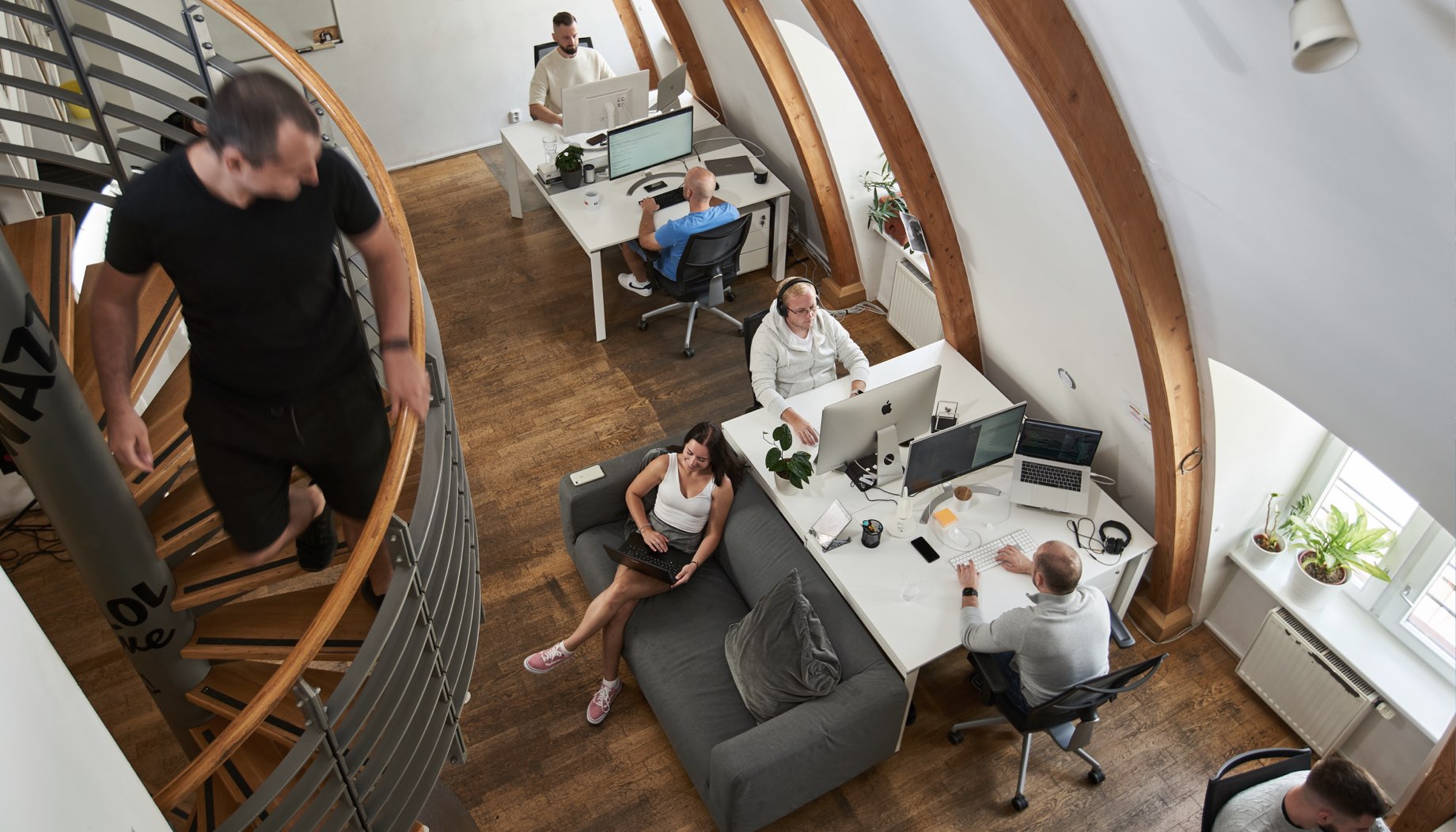 Come in for a cup of coffee
☕
Headquarters - Prague
Lazarska 13/8
Building C
120 00 Praha 2, Czech Republic
+420 222 313 277